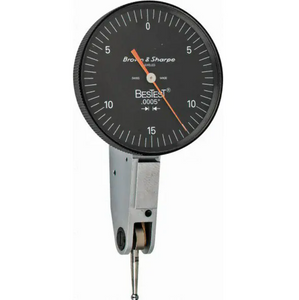 Brown & Sharpe 599-7035-5 BesTest Dial Indicator, 0.020" Range, 0.0005" Graduation
$26690

$266.90

Save $47.10
---
---
Constant Clockwise Rotation Indicator pointer always rotates clockwise (whether measuring over or under) to eliminate plus or minus confusion.
Anti-Magnetic and Corrosion Resistant Safe for use around magnetic chucks. Chrome plated to resist corrosion.
Swiveling Point Contact point can be set over 210½ arc to measure hard-to-reach areas.
Carbide Tip furnished as standard on all BesTest Indicators.
Universal Mounting Dovetails top, front and back for required mounting and rigid set up.
Monobloc (precision watch) Body Design All pinions are mounted in jeweled bearings in an isolated assembly completely separate from outer body to maintain highest accuracies.
Automatic Reversal Measuring is bi-directional with double lever system. No switch to interfere with movement. Measures inside, outside, over and under.
Each BesTest® Indicator comes with (1) carbide tip contact point; (1) 1/2" long x .250" dia. extension with dovetail; (1) contact point wrench; (1) durable molded case; and a Certificate of accuracy and traceability.
FEATURES:
Maximum Measurement: (Decimal Inch) 0.0200
Dial Graduation: (Decimal Inch) 0.000500
Dial Reading: 0-10-0
Dial Diameter: (Inch) 1-1/2
Style: Horizontal
Dial Color: Black
Minimum Measurement: (Decimal Inch) 0.0000
Contact Point Length: (Decimal Inch) 1-7/16
Contact Point Length: (Inch) 1-7/16
Ball Diameter: (Decimal Inch) 0.0800
Number of Contact Points Included: 1